Designer Cat Shelters
When we think about buying or building a home for ourselves, we look for the most creative ideas. We want our abodes to be eye-catching, cosy and functional. Then why should the homes of our pets be any different? Imagine your pet cat. When you are away from your home on a short getaway or at the office, it is the home you build for them that provides safety and shelter. So, would you not want it to be as creative as your own house? Mr. John, during an interaction with Maitre Mao Team, said, "When I was working with Besten, I interacted with a lot of international architects. In my overall experience, a lot of cat parents asked for artistic cat homes".
The Industrial Architects were requested frequently to create shelters that not only kept pet tabby's warm and snuggled during long winter months but were also inventive. The aim was to build cat homes that moved beyond pure functionality. Even though a simple structure made out of Styrofoam and duct tape is more than enough for a feline, it is the sensibility of humans that urged them to look for inventive solutions.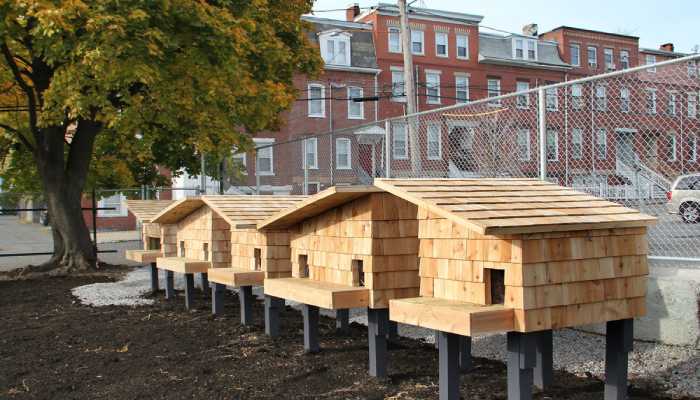 Points For Design
Any cat-owner who is considering making a creative home for their pet or thinking of asking someone else to design it, there are specific pointers that need to be kept in mind.
• Always build a shelter that can be quickly picked up. The maximum weight it should have should be only that much that one person can lift it with ease.
• The inside space of the cat home should not exceed the height of sixteen inches. Any higher than that and the house doesn't retain the body heat of the feline which is the foremost reason for building the home.
• Some sort of bedding like straw or stuffed cushion is essential. It allows for the heat to be captured.
• Always, always make the shelter waterproof, especially if you are going to keep the cat home outside for long periods. Weatherproof construction materials are ideal because water is the main reason why cat-homes get destroyed. Remember it is not snow that is the enemy number one but water.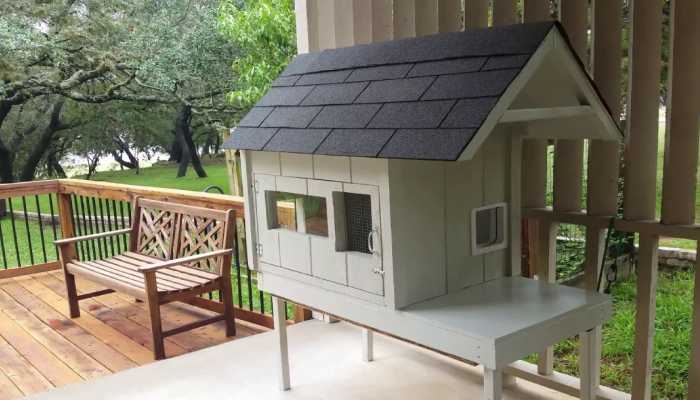 • For those cat parent who is thinking of DIY, a Rubbermaid container is an easy solution for shelter. Such vessels can be found anywhere, and they are incredibly functional.
• For a more creative bend to a DIY cat shelter, think of upcycling. Re-use an old cardboard box and seal it using standard duct tape. Line the inside cavity of the box with Styrofoam which can be upcycled from old packaging. If you live in an area where the temperature rises remarkably high, add one more layer of insulation to keep your cat warm.
To give the cat home a unique touch, use old, discarded jeans to decorate it. Cut up some pairs of jeans into strips. Use the pieces to make a braid and then stick the braid around the cardboard. The entire look of the pet shelter transforms into a rug that is reminiscent of old storybooks.